I am a widowed Boomer, full of spunk and not ready to grow old. It's the perfect time for me to be a drifter. I am semi retired, have several different streams of income that need very little of my time, and then from online. My kids are grown and gone and neither my grandkids, my great grandkids, nor my father live with me or are reliant on me. Although I usually travel alone, many of my friends and family are now able to travel different legs with me, too.
Before deciding to spread my wings, I thoroughly researched this odyssey. I had assumed I could not ever wander the world the way I wanted based on situations that were no longer true in my life. Once I took the time to sit down with pencil & paper and looked at my current reality, I realized I could not only travel the world, but on the same budget as staying at home, but it required letting go of much of the ballast in my life. To this end, I began dumping almost everything, including my house and car. It's a scary process at times, & is taking longer than I hoped because of my health, but I can see progress & feel myself beginning to soar.
My travels are not an active skiing-hiking-scuba diving-young person's trip. Nor a whirlwind "If It's Tuesday, This Must Be Belgium" tour (told you I was a Boomer!) I am the furthest thing from 'fit' and have no time restraints. Instead, I slow travel much of the time, spending a month or two in each location to immerse myself in the culture and taking day trips to explore the area. When I'm itchy to move on, I drift off to my next 'home'. I am frugal by nature, and do have a budget, but it allows for both saving money and splurging.
This blog is to share my preparation process and suggestions on how to get ready for your own adventure, as well as the travels themselves. I will share with you the valuable wisdom I have gleaned from my research, the highs and lows of my travel, do's and not do's that I learn the hard way, and interviews with travelers I meet along the way.
Thinking back, I realize travel has always been the best of my memories, but I was tethered then and had to return to my 'stuff'. But, from now on, home is wherever I am at the moment!
Sandy Jeans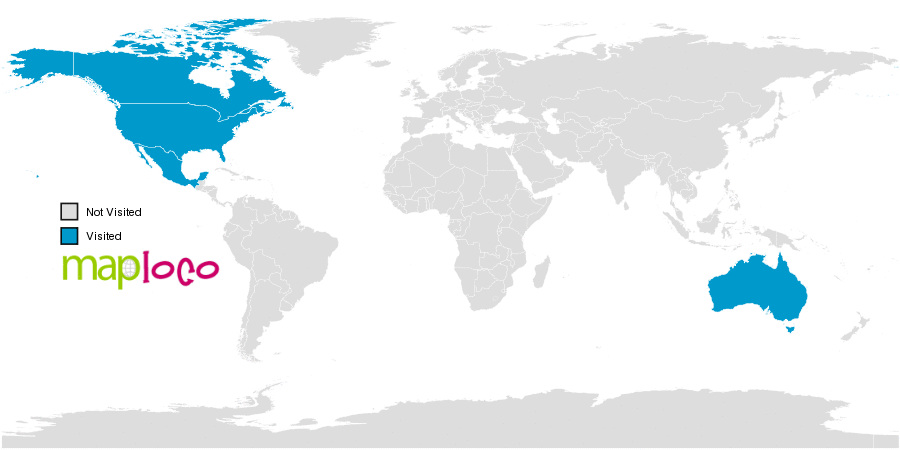 Create Your Own Visited Countries Map